Snowman Trek - III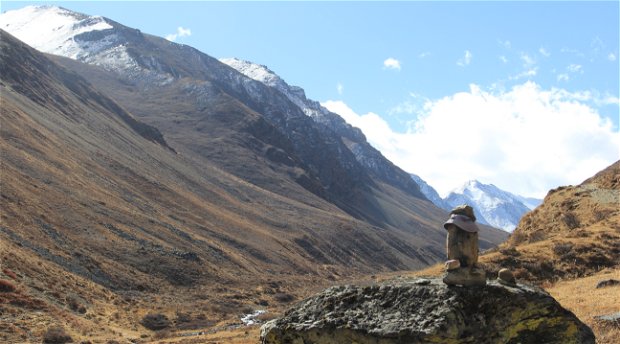 The Snowman Trek III is a shorter version of the beautiful trek starting from the highlands of Laya and Gasa passing through spectacular landscape dotted with snow capped mountains, high altitude turquoise green-blue glacial lakes, numerous isolated yak herders camps and coming out from the central valley of Trongsa.
Trekking Guide – Lobsang Nima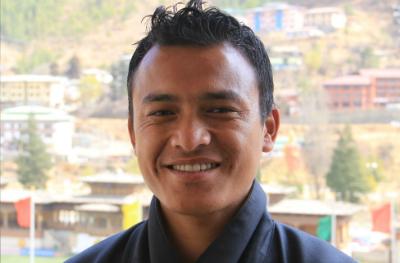 Lobsang has degree in Bachelors in Computer Applications and ever since his graduation in 2013; he has been working as a Tour Director in Bhutan tourism.  Fun loving, always smiling with right sense of humor, his main concern is the safety and comfort of his guests.
He can be considered as one of the most qualified tour directors in Bhutan owing to his various training he had undergone and back in 2015, the Tourism Council of Bhutan upgraded him as the senior Tour Directors of Bhutan.
He is a certified as well as experienced Trekking guide and now can lead any groups through the Himalayan Bhutan Mountains. He has an experience of 7 years as cultural tour director and 4 years as trekking tour director and been actively trekking with the guests who came to Bhutan from all over the world. His last trekking was on 14 days Laya Gasa Trek with a group of Americans in May 2019.
The feedbacks and reviews of Mr Lobsang Nima as he execute his duty has been exceedingly positive and a talk of the tourism industry online in Bhutan.
For more information visit his Official Page
Trekking Chef – Dorji
50 years old Dorji is a father of two daughters and his wife is a farmer and also a wonderful cook at home. 
Mr. Dorji is a trekking chef certified by Tourism Council of Bhutan and has been working for the last 23 years. He can read the mountains of Bhutan like a back of his hand and very popular among the trekkers for his relentless effort in preparing varieties of food on the mountains and his focus is on "right food" with "right energy" for the trekkers. 
In his career, he successfully did snowman trek for 3 times and failed once because of weather where he had to return after the 5th night camp. For a challenging trek as Snowman Trek and through such unforgiving Himalayan mountains, he thinks the most important is food, feet and the trekking team and therefore, he gives priority in selecting his own dedicated and experienced team for all the treks he agrees to undertake.
Pre-Departure Checklist
Camping in extreme weather such as cold temperatures and snowy conditions can be expected and extremely enjoyable; Camping on the snow can be peaceful, picturesque and an out door adventure.
All the accommodation while on Trek is twin sharing, double occupancy. Single occupancy in tents can be arranged on demand at an additional charge. All tents are Cold Weather Tents and designed for harsh weather and snowy conditions. Separate tents will be pitched for dinning, kitchen and rest room.
Check for the following Essential Trekking Gears:
Trekking Boots (broken in)
Waterproof 3/4 season jacket and trousers
Camp Footwear (light shoes/sandles/trainers)
Several pairs of good quality socks
T-Shirts - Highly recommended are synthetic T shirt styles that wick away moisture
Thermal Underwear / layers
Down jackets
Warm mid layers (fleece/micro fibre)
Trousers - Lightweight, loose fitting, trekking trousers, pants with zip-off bottoms
Shorts
Gaiters
Tracksuit or fleece pants for evenings
Sleeveless fleece and extra layers for winter departures
Warm Hat and sun Hat
Scarf/neck warmer
Gloves and Mitts - waterproof and warm
Sunglasses with UV protection
Head Torch (spare batteries)
Sunscreen and Lip Balm
Light weight towel
Hand sanitizer gel
Trail mix / nuts/ muesli bars
Whistle
Daypack - The daypack you select must have the capacity for the items you may be carrying on a day's walk: rain jacket, trousers, warm clothing, water bottle, camera equipment, washing items and other personal effects. A hip/waist strap provides additional comfort. You should consider daypacks of at least a 30 to 40-litre capacity. Horses will be carrying the rest of your luggage.
Gallery
Click Here for Itinerary
Day 1: Punakha - Gasa – Koina
Distance: 14 kms, Duration: 6 – 7 hours, Camp Altitude: 3,050 meters
Day 2: Koina – Laya
Distance: 19 kms, Duration: 7 – 8 hours, Camp Altitude: 3,840 meters
Day 3: Laya – Rodophu
Distance: 14.5 kms, Duration: 7 – 8 hours, Camp Altitude: 4,215 meters
Day 4: Rodophu – Narethang
Distance: 16 kms, Duration: 6 – 7 hours, Camp Altitude: 4,940 meters
Day 5: Narethang - Tarina
Distance: 16 kms, Duration: 7 – 8 hours, Camp Altitude: 4,350 meters
Day 6: Tarina – Woche
Distance: 14 kms, Duration: 6 – 7 hours, Camp Altitude: 4,350 meters
Day 7: Woche – Lhedi
Distance: 16 kms, Duration: 6 – 7 hours, Camp Altitude: 3,900 meters
Day 8: Lhedi – Thanza
Distance: 17 kms, Duration: 7 – 8 hours, Camp Altitude: 4,100 meters
Day 9: Halt day at Thanza
Day 10: Thanza – Danji
Distance: 8 kms, Duration: 3 – 4 hours, Camp Altitude:
Day 11: Danji – Tshochena
Distance: 12 kms, Duration: 5 – 6 hours, Camp Altitude: 4,970 meters
Day 12: Tsho Chena – Jichu Dramo
Distance: 14 kms, Duration: 5 - 6 hours, Camp Altitude: 5,050 meters
Day 13: Jichu Dramo – Chukarpo
Distance: 18 kms, Duration: 6 - 7 hours, Camp Altitude: 4,600 meters
Day 14: Chukarpo – Thampe Tsho (Lake)
Distance: 18 kms, Duration: 5 – 6 hours, Camp Altitude: 4,300 meters
Day 15: Thampe Tsho Lake – Maurothang
Distance: 14 kms, Duration: 5 – 6 hours, Camp Altitude: 3,610 meters
Day 16: Maurothang – Sephu village
Distance: 18 kms, Duration: 5 – 6 hours