The Haa Rice Planters' Trail
360 Degree Sagala Trek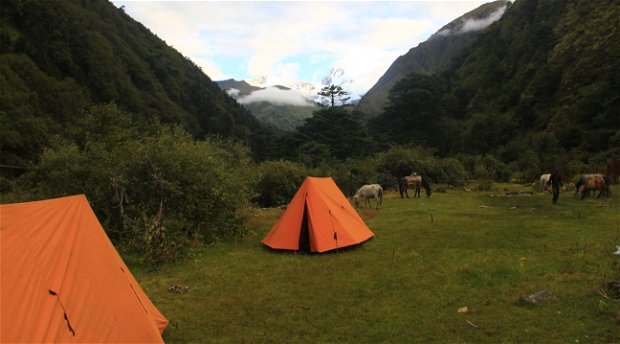 The Sagala 360 Degree View Trek also called the Haa Rice Planters' Trail as in the ancient times, was the trail that the rice planters of Haa valley used to travel to Paro valley to help the people of Paro plant and harvest rice. Haa valley is not much visited by tourists (having only been recently introduced into the coffers of tourism), and particularly the Sagala Trek is a beautiful 3 day hike through a mountain trail dividing the Haa and Paro valley.
This trek is a slight variation of the ancient Haa Planters Trail to include more stunning views of the Himalayas and the surrounding landscape. Traverse through beautiful meadows across virgin forests rich in flora and fauna and enjoy the wilderness in all its various shades and at its magnificent best. Soak in the panoramic picturesque view of the Haa Valley and the three sacred hills of Haa. Walk through peaceful and quaint villages (comprising of around 8 households) and stop over at a yak herder's camp and interact with them. One of the main highlight of the trek is the absolutely gorgeous 360 degree view from the Pass, with the Mount Jhomolhari, Mount Drageygang, Drugyal Dzong and the Taktsang Monastery on one side and Haa valley on the other.
Pre-Departure Checklist
Camping in extreme weather such as cold temperatures and snowy conditions can be expected and extremely enjoyable; Camping on the snow can be peaceful, picturesque and an out door adventure.
All the accommodation while on Trek is twin sharing, double occupancy. Single occupancy in tents can be arranged on demand at an additional charge. All tents are Cold Weather Tents and designed for harsh weather and snowy conditions. Separate tents will be pitched for dinning, kitchen and rest room.
On demand, a luxury camping facilities will be provided like bed and mattresses, warm shower tents, rest room with proper toilet pots, fishing equipment etc.
Check for the following Essential Trekking Gears:
Trekking Boots (broken in)
Waterproof 3/4 season jacket and trousers
Camp Footwear (light shoes/sandles/trainers)
Several pairs of good quality socks
T-Shirts - Highly recommended are synthetic T shirt styles that wick away moisture
Thermal Underwear / layers
Down jackets
Warm mid layers (fleece/micro fibre)
Trousers - Lightweight, loose fitting, trekking trousers, pants with zip-off bottoms
Shorts
Gaiters
Tracksuit or fleece pants for evenings
Sleeveless fleece and extra layers for winter departures
Warm Hat and sun Hat
Scarf/neck warmer
Gloves and Mitts - waterproof and warm
Sunglasses with UV protection
Head Torch (spare batteries)
Sunscreen and Lip Balm
Light weight towel
Hand sanitizer gel
Trail mix / nuts/ muesli bars
Whistle
Daypack - The daypack you select must have the capacity for the items you may be carrying on a day's walk: rain jacket, trousers, warm clothing, water bottle, camera equipment, washing items and other personal effects. A hip/waist strap provides additional comfort. You should consider daypacks of at least a 30 to 40-litre capacity. Horses will be carrying the rest of your luggage.
Gallery
Itinerary
Day 1: Haa Valley – Sagala Pass (3,720 meters)
Distance: 20 minutes drive; 8 Kms, Duration: 4 – 5 hours hike, Camp Altitude: 3,235 meters
From your hotel, drive for a few minutes till you reach the road-end at Talung village from where you start your trek. Today the walking distance is only about 3 hours however you can explore the villages enroute and acclimatize to the altitude. The hike is through the remote villages, farmlands, meadows and bridges till you reach your campsite. Your campsite is at Khadey Gom a beautiful meadow located below the Sagala Pass
Day 2: Sagala Pass – Ningula Pass (4,435 meters)
Distance: 12 Kms, Duration: 5 – 6 hours, Camp Altitude: 4,191 meters
The highlight of this day will be the spectacular sunrise and 360 degree views of the snow capped mountains, Drugyl Dzong and the Tiger's Nest Monastery from the top of the Sagala Pass. The walking hours is about 5-6 hours till you reach your campsite at Ningula Pass.
Day 3: Ningula Pass – Chelela Pass (4,300 meters) – Paro Valley
Distance: 13 Kms, Duration: 6 – 7 hours
Today you will be walking along the mountain ridges and through the forests of Rhododendron, fir and pine tress till you reach the Chelela Pass which is above the tree line. You can view the Haa valley on one side and the Paro valley on the other with the snow capped Himalayan Ranges in the distance. If you are up for it you can also visit the sky burial ground.
Your driver and vehicle will be waiting for you at the roadpoint below the Chelela Pass, and another 2 hours drive will bring you to your hotel in Paro.