Practice Mediation and Learn Monastic Life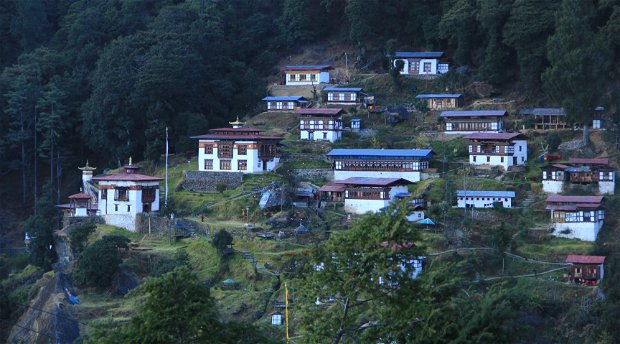 One of the most idle place to learn and understand a life in a monastery is to hike to DodeyDrak Moanstery, 2 hours 24 mins hike towards the north of Thimphu City and stay there overnight at least. If you can add another one to two days, you can learn from the high Buddhist Scholars and reincarnate of the monastery and practice meditation.
The hike to 12th century Dodey Drak Monastery in North Thimphu will provide you an uncommon adventure and an escape from the common touristy points-of-visit in Thimphu city.
The easy 2 hour 30 minutes climb to the monastery along the ancient hidden trail will provide you breathtaking view of multi-coloured rhododendrons painting the Chirpine forest in Spring and while other times you will see White Langurs, a variety of species of birds and butterflies as you walk along the pine leaves-carpeted trail.
Spectacular views of TashiChho Dzong, Wangdi Tze Dzong, and Dechen Phodrang will present itself as you climb further with Thimphu city peeing in occasionally from among the trees.
Follows us on Strava and Enjoy the Interactive Maps of the Trail
Coming back will take lot less time but we recommend you camp the night out. The Monastery has a guesthouse that welcomes all and it is a humbling experience to share a meal with the monks of the monastery. Otherwise, camping a little further up from the monastery provides mesmerizing view of the valley with the beautiful sunrise.
Since the establishment of the Dodey Drak Monastery in the 12 Century AD, the trail has been used as the main route connecting the monastery with the rest of Thimphu. The temple at the monastery was established with the Chief Abbot, the head of the clergy and the monastic school was established by the His Majesty the Fourth King Jigme Singye Wangchuck in 1980. The monastery complex now consists of many small living quarters for the student monks while the classes are held inside the altar rooms.
Above the Monastery sits a 1000-year old meditation hermitage where hermits meditate for as long as 12 years.
The monastery houses a small museum with many historic and religious artifacts and stories attributed to one of the Chief Abbot Jamyang Gyeltshen considered an acclaimed craftsman who made numerous statues and paintings/murals.
There is also a cave nearby from where holy spring water drips and drinking this water, locals believe, washes away sins and promotes good health and prosperity.