Adventure by day, authentic luxury by night
Ultimate Bhutan Luxury Tour, The Aman Kora Journey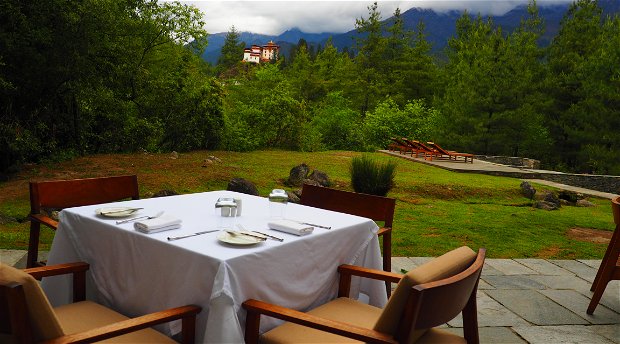 Travel in style for a unique Bhutan Travel and Bhutan Holiday experiences and while realizing your much awaited dream to visit this dreamland. Indulge in the highest levels of personal and attentive service, lavish and sumptuous accommodations, and a tour program tailored by Bhutan Swallowtail – No. 1 Bhutan Travel Agent since 2015 in terms of high quality service deliverance.
The Ultimate Bhutan Luxury tour is specifically designed by Bhutan Swallowtail to meet the needs and expectations of luxury travellers. While focusing on the supreme comfort and elegance of traveling, we are striking the right balance of local insight, independence and flexibility. People of Bhutan are genuinely devoted to spiritual realization and Bhutan boasts of clean air, undisturbed nature and rich age – old culture and tradition and the tour will take you through an in depth emotional experience in this country of myths and legends.
Want to Know About AmanKora, Visit our Blog, "Aman Kora in Bhutan"
DETAILS OF THE TOUR PACKAGE
Travel Difficulty: Moderate
6 - 7 hours of activity a day and/or elevation gain, higher altitude, longer distance, uneven terrain.
Ultimate Luxury Bhutan Tour Highlights
Adventure by day and authentic Luxury by night - all night stay at AmanKora, the supreme comfort and elegance
The right balance of local insight, independence and flexibility
Tiger's Nest/Taktsang Monastery. Hanging onto a precarious almost vertical mountain cliff, it's a spectacular sight in terms of location, setting and history and is one of the holiest sites in the Buddhist arena.
Excursion of Thimphu valley – Combination of the ancient and the modern
Excursion of Punakha – the old capital of Bhutan
Excursion of Gangtey valley – one of the beautiful glacial valleys of Bhutan
Excursion of Bumthang valley – The Spiritual Heartland of Bhutan
Visit Dochula Pass – 3,150 meters, enjoy the spectacular panoramic view of the snow capped Himalayas
Visit Tashi Chho Dzong or the Fortress of the Auspicious Religion – the office of the Dragon King of Bhutan
Hoisting of prayer flags high in the mountains – as per your birth an astrologer will consult the Divination Charts and accordingly your guide will purchase the appropriate prayer flags that most benefit and protect you.
Traditional farmhouse experience
Play/practice a game of traditional archery
Traditional hot stone bath
Other Highlights
Included quality wining and dining: a welcome reception with drinks at every hotels of your stay,
Throughout your holiday to Bhutan, escorted by one of the Bhutan Swallowtail's expert tour guide- your 'travelling concierge', expert guide, consummate facilitator and friend in a foreign land who ensures your journey is as enjoyable as possible.
Baggage handling everywhere on your tour.
Free Wi-fi and internet in most of the hotel rooms and lobbies.
Enjoy the unique comfort of Bhutan Swallowtail's Luxury air conditioned SUV and coach with extended leg room.
Airport Transfers as per the scheduled flights.
Package Inclusion:
Airport Transfers
All Accommodation at Amankora - ultimate luxury hotels in Bhutan
All three meals, tea, coffee and bottled water
Dedicated SUV luxury vehicle with a driver
English Speaking licensed Guide throughout the Trip
Short hikes, Packed lunches and snacks wherever required
Monumental /Entrance Fees
Visa fee
Government Royalty – goes towards economic developmental works in Bhutan eg, education, health, roads etc
Package Does Not Include:
Sustainable Development Fee of USD 65 per person per night
VISA FEE of USD 40 per person
Air fare
Refreshments and bottled drinks and alcohol
Tips/gratuities – It is at your discretion to tip your guide and driver as per their service quality
Cost arising out of Flight Cancellation/road blockades/ landslides and events beyond our control
Expenses of personal nature and any other expenses not mentioned in the above cost
Transport:
The vehicles of Bhutan Swallowtail are all luxurious with air conditioning / heating systems catering to the comforts of our guests as well as ensuring a smooth ride over the mountainous and winding roads of Bhutan. With high ride quality and extended legroom you can enjoy the beautiful landscape from the inside of our cars. We will have four-seater Hyundai Santa fee air-conditioned luxury SUV for you and your family with a dedicated driver and a guide throughout your trip.
VISA to Bhutan
All tourist Visa has to be applied through a local tour operator and the only document required for this is a scan copy of your passport with a minimum validity of 6 months prior to entering Bhutan. This is the only document required from your side for us to apply for your Bhutan Visa. Visa approval only depends on your imminent travel dates.
Gallery
Itinerary
PARO - Your First Glimpse of Bhutan
Rinpung Dzong/fortress of heaped Jewels, National Museum, Dochulaa Pass – 3,150 meters
Arrive at Paro International Airport
Paro Rinpung Dzong/fortress of heaped Jewels
National Museum
Drive to Punakha- 3.30 hours
Dochulaa Pass – 3,150 meters– On a clear day spectacular view of the snowcapped Himalayas
108 chortens/stupas
Druk Wangyel Lhakhang/Temple of Victory
Lobesa Market
Continue drive
Overnight at your AmanKora in Punakha
EXCURSION OF PUNAKHA VALLEY- Old capital of Bhutan - GANGTEY, PHOBJIKA & NEIGHBORING VILLAGES VALLEYS – One of the most beautiful glacial valleys in Bhutan
Khamsum Yulley Namgyel Chorten, Interact with the nuns, Chime Lhakhang/Fertility temple
Nunnery – beautiful view of the Punakha and Wangdue valleys
Interact with the nuns (most speak English)
Hike to Khamsum Yulley Namgyel Chorten – 2 hours leisurely
Punakha Dzong / Fortress of Great Bliss
Iron Suspension Bridge- Longest iron bridge in Bhutan
Chime Lhakhang/Fertility temple – 25 minutes' walk
Drive to Gangtey and Phobjikha Valleys- 2 hours
 Visit a traditional farmhouse followed by dinner with local family
Overnight at AmanKora in Gangtey
GANGTEY & PHOBJIKHA VALLEYS- TRONGSA VALLEY- Valley of the Vanguard of Warriors
Gangtey Natural trail, Pelela Pass – 3,420 meters, Trongsa Dzong / Fortress of the Vanguard of Warriors
Gangtey Natural trail – 1 hour leisurely hike
Crane Observation Center
Gangtey Monastery
Drive to Trongsa - 4 hours
Pelela Pass – 3,420 meters
Chendebjee, Rukubjee & Tangsibjee Villages
Chendebjee Stupa
Trongsa View point
Trongsa Dzong / Fortress of the Vanguard of Warriors
Royal National Museum  -  dedicated to the Wangchuck Dynasty, the Dragon Kings of Bhutan
Drive  to Bumthang – 2 hours
Yotongla Pass – 3,400 meters
Yathra Weaving Center – yak and sheep wool weaving and textiles
Overnight at AmanKora in Bumthang
BUMTHANG VALLEY EXCURSION – The Spiritual Heartland of Bhutan
Jakar Dzong /Fortress of the White Bird, Kharchu Dratsang / Institute of Buddhist Studies
Jakar Dzong /Fortress of the White Bird
Walk to the four temples  -Jambay Lhakhang/temple
Kurjey Lhakhang/temple
Tamzhing Lhakhang/temple
Kharchu Dratsang / Institute of Buddhist Studies – beautiful view of the valley
Kenchosum Lhakhang – one of the most beautiful temples
Overnight at your hotel in Bumthang  
BUMTHANG TO PARO
Domestic flight, Memorial Chorten / stupa, TashiChhoDzong/Fortress of the Auspicious Religion
PARO – THIMPHU – The capital city of Bhutan
Drive to Thimphu Valley – 1 hour
Enroute Tachogang lhakhang – dedicated to a great Yogi Thangtong Gyelpo,' The iron Bridge Builder'
Iron Suspension bridge
Memorial Chorten / stupa – Congregation of devout Bhutanese circumambulating the 3 storied stupa
Buddha Dordenma  –  51.5 meter bronze Shakyamuni Buddha statue gilded in gold
TashiChhoDzong/Fortress of the Auspicious Religion and office of the Golden Throne of the Dragon King
Stroll through the main streets of Thimphu
Overnight at AmanKora in Thimphu
THIMPHU VALLEY – PARO VALLEY
Bhutan Postal Museum, centenary farmers market
Changangkha Lhakhang/temple – one of the oldest temples in Thimphu
Takin Preserve – a weird looking national animal of Bhutan with the head of a goat and a body of a cow
Bhutan Postal Museum – make your personalized stamps with your photos and use them to send postcards to your family and friends around the world
Visit weekend centenary farmers market
Drive to Paro – 1 hour
Bhutanese cooking experience
Overnight at your hotel in Paro
TAKTSANG MONASTERY- The Most Important Cultural Icon of Bhutan
Taktsang Monastery, Kyichu Lhakhang, Traditional Hot stone bath
Hike to Taktsang  Monastery  (3 hours uphill climb, 2 hours downhill)
Kyichu Lhakhang / temple- One of the oldest temples in Bhutan
Stroll through the numerous small handicraft shops
Traditional Hot stone bath
Overnight at AmanKora in Paro
PARO INTERNATIONAL AIRPORT
Depart
Breakfast
Drive to the Airport – 20 minutes
Paro International Airport