Jiligang Village Hike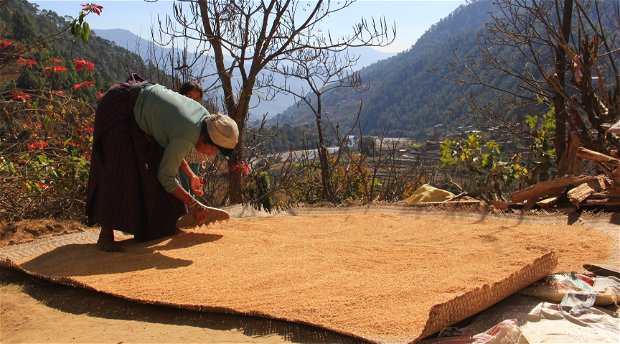 The first step of Jiligang hike – the off the beaten Bhutan Adventure in Punakha, western Bhutan begins from the suspension bridge over Mochu, the female river which meanders along the valley until it meets her partner Pochu (male river) forming a confluence below the Punakha Fortress, Palace of Great Bliss.
The breeze of the splashing glacier river and the swinging bridge will give you a prior taste of adventure in Bhutan of the beautiful hike ahead. Amongst the Himalayan river breeze to the sight of wavering paddy fields enjoy a relaxed hike through traditional Bhutanese houses replete with Bhutanese farm life and you can experience a unique Bhutan holiday. Hike uphill till you reach about 1,800 meters on the hilltop through the chirpine forest.
The moderately strenuous hike is through the cool shades of pine trees and serene environment with peeping views of the Punakha Dzong and valley below. As you hike up, the aesthetic view of the meandering river and the melodic chirping of the birds will welcome you all the way. During summer, numerous species of tropical birds can be spotted including the Himalayan water birds.
As you climb a little higher, the view of Jiligang Monastery will wash away your weariness and a gush of newfound energy will greet you along with the warm smiles of the caretakers of the temple.
Legend has it that to challenge and to prove the power of his meditation Ngawang Chogyal the valley got its name Jiligang which literally means the 'Cat Peak' when Ngawang Chogyal to prove the power of his meditation to his brother Lama Drukpa Kuenley the Divine Madmen.  threw a cat through a hole in the hill in Sonagasa which lies at the bottom of the valley. The cat came flying through the hole in a tree just below where Jiligang is now located. Hence the name, jiligang- The Cat Peak.
The Monastery was built by Lama Drukpa Kuenley in the mid 15 Century and the current caretakers' ancestors had been taking care of it ever since. From the hilltop you can enjoy 360 degree of the nearby mountains, nine villages to be precise and spectacular view of the snowcapped mountains in the distance. Jiligang Monastery is believed to have the same values and blessings as Chimi Lhakhang, the Temple of Fertility located in Punakha as well.
Interact and experience the hospitality of the caretaker and her family at the monastery, which is part and parcel of Bhutan travel and Bhutan holiday.
Enjoy this hiking adventure and be amongst the few to have visited this legendary place!