Rainforest Hike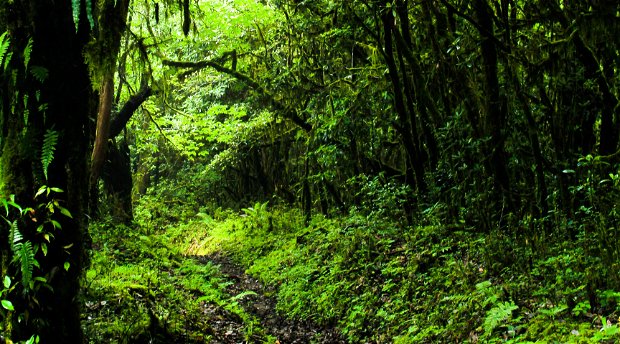 Starting from the scenic and remote Chorten Nyingpo Temple, The 5 hour Rainforest Hike will take you to a magnificent, peaceful and huge mountain lake called Hoka Tsho in Punakha valley. The trail leads through a dense rain forest of gigantic trees with very less or zero human presence or interference.
Description:
The Rainforest Hike is a 5 hours moderately challenging hike deep in the rainforests of upper Punakha valley. The trail leads through mud-caked pathways, gentle ascend and descends through small villages, along an irrigation canal and dense vegetation till you reach the magnificent lake.
This trail is only used by the locals to visit the Lake and hence is very peaceful and quite apart from the sounds of nature, chirping of the birds and weird but harmonious insect sounds.
Enjoy the view of the serene lake and head back to one of the farmhouses for a picnic lunch and onto to Chorten Nyingpo where you will be picked by your car. 
Along the Trail and nearby the lake you can see interesting plants like the Colocaciaspp, Neprolephsiscardifolia (fishbone fern) a survival food whose roots are like berries and quenches your thirst and fills your stomach at the same time, Assamese apple ((Docyniaindica), Edible ferns, Elatostimaplatyphyllum (locally known as Dambru) and many more.
Birds and animals like Blue-throated barbet, Asian emerald Cuckoo, Fly catchers, Swifts, Common leopard, Himalayan black bear and Barking deer can be seen along the Trail.
Background History
Lakes in Bhutan are considered very sacred and holy and thus also a pilgrimage site for the devout Buddhists. One particular trait of Buddhism is circumambulating stupas, monasteries, temples and even lakes! In the winter it takes about one hour to make one circumambulation around the lake, however it is not possible in the summer.
Chorten Nyingpo, the start and end point of the Trail was built in 1587, however two high monks by the same name Tenpey Nyima claim to be the rightful founder so the history of the Chorten is not clear. However it is still a very sacred temple and currently serves as an Institute of Buddhist Studies where monks from nearby villages are the student residents. You can interact with the monks and watch them as they go about their daily rituals.