Spiritual Journey with Bhutan Swallowtail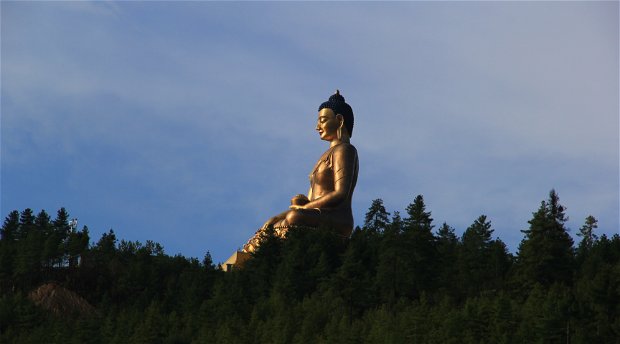 A Spiritual retreat across beautiful valleys to visit sacred temples, holy sites and practice meditation.
The Kingdom of Bhutan is a haven for retreat and mediation with its peaceful and tranquil environment, sacred and holy sites. Over the centuries, great Buddhist scholars, saints, lamas, yogis, and teachers have come to this isolated Himalayan Kingdom to immerse themselves in meditation as an alternative way of living and in quest for the ultimate truth. The whole kingdom of Bhutan is considered as a 'Baeyul', a land hidden by Guru Rinpoche from evil spirits and more relevantly from the evils of modernization and consumerism. Moreover, Bhutan has numerous holy sites and caves blessed by Guru Rinpoche and many other learned saints.
There are small retreat centers and hermitages all over located near temples and monasteries high in the mountains. For the Buddhist practitioners and monks, it is a common trait for them to disappear amongst the hills and mountains for days, months and years. Meditation is an integral part of Buddhism, a journey into the self and time to reflect upon life and the whole purpose of life and death.
Our itineraries include meditation in any of the caves or temples or solitary retreat for few hours in isolated, sacred sites blessed by Buddhist saints and masters. We can also tie up with star rates hotels who regularly organize yoga sessions, retreat and meditation facilities.
Special Attentions:
Visit off the beaten path temples and sacred caves and sites
Short hikes to remote temples and monasteries where regular tourists normally don't visit
Interactive sessions on Buddhism, Meditation and Spirituality with English speaking monks or with translators
Self Meditation for an hour or full day at sacred sites/temples throughout the trip
Overnight stays at Monasteries and temples with due permission
English speaking tour guide knowledgeable and well versed in Buddhism and Bhutan in general
Other Highlights:
Included quality wining and dining: a welcome reception with drinks at every hotels of your stay,
Welcoming Dinner by the founders of Bhutan Swallowtail Tours and Travels,
Throughout your holiday to Bhutan, escorted by one of the Bhutan Swallowtail's expert tour guide- your 'travelling concierge', expert guide, consummate facilitator and friend in a foreign land who ensures your journey is as enjoyable as possible.
Baggage handling everywhere on your tour.
Free Wi-fi and Internet in most of the hotel rooms and lobbies.
Enjoy the unique comfort of Bhutan Swallowtail's Luxury air conditioned SUV and coach with extended leg room.
Airport Transfers as per the scheduled flights.
Spiritual & Meditation Bhutan Tour - Package Inclusion:
Airport Transfers
Stay in hotels/Farm-stays as indicated in the itinerary
All three meals, tea and coffee
Dedicated SUV vehicle with a driver
English Speaking Guide throughout the Trip
Short hikes, Packed lunches and snacks wherever required
Monumental Fees
Bhutan Tourism Development Fee
Government Royalty of USD 65 per person per night – your personal contribution to the health, education and all developmental works in Bhutan
VISA processing Fee
Package Does Not Include:
International/Domestic Air fare
Refreshments and bottled drinks and alcohol
Tips/gratuities
Cost arising out of Flight Cancellation/road blockades/ landslides and events beyond our control
Expenses of personal nature and any other expenses not mentioned in the above cost
Transport and Other Facilities:
The vehicles of Bhutan Swallowtail are all luxurious and air conditioned, catering to the comforts of our guests as well as ensuring a smooth ride over the mountainous and winding roads of Bhutan. With high ride quality and extended legroom you can enjoy the beautiful landscape from the inside of our cars. We have Toyota SUVs, Hi Ace buses and coaster buses with carrying capacity of up to 30 people in one bus. Driven by experienced and licensed drivers we will make sure you enjoy your holiday to Bhutan and the comforts of our luxurious fleet of cars.
VISA to Bhutan
All tourists must obtain a visa clearance prior to travel to Bhutan. Visas are processed through an online system by us as your licensed Bhutanese tour operator.
You are required to send the photo-page of your passport and the your visa will be processed by the Tourism Council of Bhutan (TCB) once the full payment of your holiday (including a USD $40 visa fee) has been wire transferred and received in the TCB bank account. Once received the visa clearance will be processed within 72 working hours.
At your point of entry you will be required to show your visa clearance letter, the visa will then be stamped into your passport.
Terms and Conditions:
Tour prices and dates are correct at the time of the website going live, however are subject to confirmation at the time of booking. All tour information is correct at time of tours going live, however is subject to change, please confirm all details at time of booking. For full terms and conditions, please refer to our Booking Conditions page.
Gallery
Itinerary
Day 1 – Welcome to Bhutan - the land of Thunder Dragon
On arrival at the Paro International Airport your tour guide and driver will warmly welcome you. Depending on the time of the day you can have your lunch or tea/coffee/snacks in Paro town and then start your magical experience of Bhutan by first visiting the impressive Rinpung Dzong/Fortress of Heaped Jewels which is a fine example of the ostentatious Bhutanese art and architecture.  The Dzong is located in the heart of the town and a few minutes walk through Nyimazam, one of the few last remaining traditional cantilever bridges in Bhutan. Dzongs serve as both monastic institutions and district administrative offices.
Located above the Dzong is the National Museum that houses various antiques and artefacts of Bhutan and provides a deep insight into Bhutan's cultural and religious history.
Check into your hotel, rest and relax. In the evening enjoy a stroll through the market places or nearby your hotel. Overnight at your hotel in Paro.
Day 2: Drak Karpo Lhakhang / Temple
Drive for about 30 minutes till you reach the base of the Temple and a few minutes walk will bring you to the Drak Karpo Lhakhang. Visit the main temples where your guide will tell you the story about the Lhakhang and its spiritual importance. It is believed that circumambulating the Lhakhang and the caves will wash away/cleanse your sins.
Enjoy your picnic lunch and spend the day circumambulating or meditating. In the evening drive back to your hotel and overnight at Paro.
Day 3: Excursion of Dongkola, Bemri and Dochotey Lhakhangs
Early morning drive for about 2 hours till you reach the end of the roadpoint, and walk for two hours till you reach Bemri Lhakhang. It is believed that a hundred thousand Dakinis visited this place and blessed it as a holy site.
Then hike for about another four hours till Dochotey Lhakhang that abounds in mystical stories making it yet another sacred pilgrimage site in Bhutan. Interact with the Lhakhang caretaker (a residing monk) and overnight at the Monastery.
Day 4: Dochotey Lhakhang – Dongkola Lhakhang
Early morning meditation followed by breakfast and walk back for another 5 hours till you reach Dongkola Lhakhang located on top of the mountain. After visiting the Lhakhang and if there is time you can visit another Temple nearby or drive to Thimphu. From Dongkola it is about 2.5 hours drive till Thimphu.
Overnight at your hotel in Thimphu.
Day 5: Thimphu Valley Excursion – Combination of the Ancient and the Modern
Thimphu with a population of about 130,000 people is one of the last few capital cities without traffic lights and the traffic still managed by traffic policemen. While strictly maintaining the aesthetic beauty and traditional style of architecture in the modern buildings, there are also very old temples and numerous monasteries in and around the city, a few discotheques, Karaoke joints and pubs.
Soak in the panoramic view of the Thimphu valley from the site of the gigantic Lord Buddha, a 51-meter bronze Shakyamuni Buddha statue gilded in gold. You can also hike for an hour around the Buddha with views of the Thimphu valley from various points.
The beautiful Memorial Chorten/stupa in town is another favorite with the tourists and a regular sight for congregation of devout Buddhists circumambulating the Chorten from dawn till dusk. The main statue of the Buddha inside the Chorten is said to grant wishes for the earnest and honest hearted!
If you want to mingle with the Bhutanese people and jostle with local farmers amongst the aroma of organic fruits and vegetables, the Centenary Farmers Market is the place to be. Smiling tourists watch in awe as locals bargain with the vendors and you could even stock up on your organic fruits for the coming days.
From town walk for a few minutes to Changangkha Lhakhang the oldest temple in Thimphu.
In the evening visit the Tashichho Dzong/Fortress of the Auspicious Religion and office of the Golden throne of the Dragon King of Bhutan. After, stroll through the market places and the craft bazaar.
Overnight at your hotel in Thimphu.
Day 6: Dodeydrak Monastery

After breakfast drive for about 30 minutes till you reach the base of the Monastery from where you will hike uphill for another 2 hours till you reach the Dodeydrak Monastery. Located in Thimphu the capital City the Monastery still remains remotely located with not many visitors and hardly any tourists. The Dodeydrak Monastery is a complex of small temples that serve as a Buddhist Institute for learning and resident monks are all young and old.
Since you will be spending the night at the Monastery Guesthouse you have enough time to visit the main temples and interact with the novice monks. In the evening you can learn more about Buddhism and meditation from the Principal or the Vice Principal of the Institute, both of them speak English and they are graduates from the Tango and Cheri Monasteries (which you will be visiting next).
Day 7: Dodeydrak – Tango & Cheri Monasteries
Enjoy your early morning meditation and sunrise over the Thimphu valley, have breakfast and hike downhill for an hour from whereon drive for another half an hour till you reach the base of the Tango Monastery. Tango and Cheri Monasteries are located north of Thimphu on two adjacent hills. You can first visit the Tango Monastery and interact with the monks who all speak English.
The Tango Monastery/University for Buddhist Institutes is an hour walk uphill through well maintained pathways. Tango was founded by Lama Gyalwa Lhanama in the 13th Century and its present structure built by Gyalse Tenzin Rabgye in 1688. Tango means 'horse head' and conforms to the main deity Hayagriva (local name is Tandin). Tango Monastery covers the caves where originally meditation and miracles were performed by saints from the 12th Century onwards.
Next visit the Cheri Monastery also another one and half hour hike uphill.  Also called as Chagri Dorjeden, the Monastery was established in 1620 by Lama Zhabdrung. Cheri was the first of a series of monasteries built by Lama Zhabdrung (The saint who unified Bhutan).  Presently the Monastery serves as a major teaching, meditation and retreat center.
Drive back to your hotel and overnight at Thimphu.
Day 8: Thimphu – Punakha and Wangdue Valleys
After breakfast check out of your hotel and drive for about three hours to Wangdue and Punakha valleys.
Enroute stop over at the Dochulaa Pass (3150 meters) and on a clear day enjoy the spectacular views of the snow-capped Himalayan Mountains. The 108 small stupas built over a small hill is also a beautiful sight. The road from the Pass winds down to the warm and fertile valleys of Punakha and Wangdue.
A visit to the Fertility Temple / Chime Lhakhang is a must for its unique Phallic paintings on the walls of the houses and symbols. It is a pleasant 30 minutes walk through mustard and paddy fields. Standing on a picturesque hilltop the Lhakhang is famous for its fertility wish grants to couples. Inside the walls of the Lhakhang are beautiful frescoes depicting the colorful life of Lama Drukpa Kuenley, the Divine Madman regarded for his crazy methods of teaching that included blessing women in the form of copulation!
Next visit the impressive Punakha Dzong / Fortress of Great Bliss built in 1673 by Zhabdrung Ngawang Namgyel (the first spiritual & political leader of Bhutan) to commemorate the final victory against numerous Tibetan invasions. Located on a piece of land between two rivers Pho Chhu and Mo Chhu (literally meaning male and female rivers), the Dzong is massive, huge and magnificent in all its architectural grandeur. Although ravaged by flood, fire and earthquakes many times, the Dzong was always rebuilt with its original pattern and design. The first King of modern Bhutan was crowned in Punakha Dzong. Important religious ceremonies are still held in the Dzong. The Royal Wedding ceremony on 13th October 2011 of the Fifth King Jigme Khesar Namgyel Wangchuck to Jetsun Pema was conducted in Punakha Dzong.
From the Dzong enjoy a short walk through a beautiful pathway of giant flowering trees and flowers and on to the longest iron suspension bridge.
Overnight at your hotel in Punakha.
Day 9: Punakha – Trongsa Valleys
After breakfast, drive for a few minutes up north and hike for an hour to Khamsum Yulley Namgyel Chorten / Stupa. You will be walking through pine trees and paddy fields. From the Chorten you can enjoy sweeping views of the valley with paddy fields, scattered villages and the meandering Mo Chhu (Female river).
Today you will drive for about 5 hours to Trongsa valley with stops in between at scenic locations.
Overnight at your hotel in Trongsa.
Day 10: Trongsa - Tharpaling Goemba in Bumthang Valley
Trongsa Dzong  / Fortress of the Vanguard of Warriors was built in 1644 and from a distance before reaching Trongsa one can see its spectacular sight and its strategic location on a mountain spur high above the Mangde Chhu (River). As per tradition, all the Kings of Bhutan had to first become the Trongsa Penlop (Governor) before being installed as the Crown Prince and finally the King of Bhutan. For centuries the Dzong controlled the east-west trade and the only road or path connecting east and west Bhutan passed through the courtyard of the Dzong. In the olden times, the Trongsa Penlop was so powerful that at his behest, the massive doors of the Dzong could be closed cutting off all communication between eastern and western Bhutan.
Located above the Dzong is a Watch Tower converted into a Museum housing various important and religious artifacts.
You will continue your drive to Bumthang via Yotongla Pass. Outdoor mountain top tea and snacks will be arranged either in Yotongla Pass or on a beautiful place with a good view of the surrounding valleys and hills.
The drive is very scenic and beautiful with different kinds of rhododendrons blooming all the way in spring. From Yotongla pass you will gently descend down to Chumey. From Chumey village drive for about an hour uphill to the remote Tharpaling Goemba/Monastery and overnight at a house near the Monastery.
Day 11: Tharpaling Goemba/Monastery
Founded by Longchen Ramjam the Tharpaling Goemba was used as a meditation center by eminent Buddhist scholars and high Lamas over the centuries. You can visit the many meditation caves of Guru Padmasambhava, Longchenpa and many other Lamas. You can spend the whole day meditating in the various caves.
In the evening drive to Bumthang valley (1.5 hours) and overnight at your hotel in Bumthang.
Day 11: Tharpaling Goemba/Monastery
Founded by Longchen Ramjam the Tharpaling Goemba was used as a meditation center by eminent Buddhist scholars and high Lamas over the centuries. You can visit the many meditation caves of Guru Padmasambhava, Longchenpa and many other Lamas. You can spend the whole day meditating in the various caves.
In the evening drive to Bumthang valley (1.5 hours) and overnight at your hotel in Bumthang.
Day 12: Bumthang Valley Excursion – The Spiritual Heartland of Bhutan
Bumthang is a beautiful wide valley and as the name suggests the place abounds in numerous spiritual sites, stories and myths. In the olden days Bumthang used to be frequently haunted/disturbed by demons and terrifying spirits, and many learned holy Lamas had subdued most of these spirits and turned them into local deities and protectors of the Buddha Dharma. There are many sacred temples and monasteries and we have chosen a few important ones for you to visit.
After a typical Bumthang breakfast, visit the Jakar Dzong/Fortress of the White Bird and walk at a leisurely pace to the four temples of Jambay Lhakhang/temple, Kurjey Lhakhang, Tamzhing and kenchosum Lhakhang. All the monasteries are ancient and with their unique history and beauty.
In the evening visit the Kharchu Dratshang/Buddhist Institute overlooking the valley, and you can interact with the monks and lamas.
Overnight at your hotel in Bumthang.
Day 13: Excursion of Tang Valley and Kunzang Drak /Cave
After breakfast drive for about 2 hours to Tang Valley with an enroute stop at the Mebar Tsho / Burning Lake. It is believed that Terton Pema Lingpa (Spiritual Treasure Discoverer) jumped into the lake with a burning oil lamp, came out of the lake with the lamp still burning and numerous spiritual treasures, which had been hidden by Guru Padmasambhava centuries ago. Hence this is a holy site and a must visit for all Buddhists.
Continue drive to Tang and from a little above the valley, hike for about 3 hours till you reach Kunzang Drak, another very important site of Terton Pema Lingpa and Guru Padmasambhava. You can spend the day meditating in the different caves and if possible we will arrange for an overnight stay near the main temple. Or you can return to Tang and stay at the Tang Guesthouse.
Day 14: Excursion of Tang Valley and Kunzang Drak /Cave
Early morning meditation and explore the remote valley of Tang by visiting few farmhouses and interact with the farmers/villagers. You can also visit the local palace turned Museum and enjoy a picnic lunch by the Tang riverside.
In the evening drive back to Bumthang and overnight at your hotel in Bumthang.
Day 15: Bumthang – Paro: Domestic Flight
After breakfast you can take the 30 minutes domestic flight from Bumthang to Paro. Check into your hotel, rest and relax.
There are many local temples and monasteries you can visit or you can rest at the hotel and do meditation.
In the evening walk through the Paro town and market places. There are many small handicraft shops if you wish to purchase local handicrafts or souvenirs. In the town you can also visit the Dungtse Lhakhang, a 3-storied temple amid the paddy fields. Drive for a few minutes to the View Point from where you can enjoy the night view of the well lit Paro Dzong, Museum and the Cantilever Bridge.
Overnight at your hotel in Paro.
Day 16: Tiger's Nest / Taktsang Monastey – One of the Most Important Cultural Icons of Bhutan
Have an early morning sumptuous breakfast for your hike to Taktsang Monastery / Tiger's Nest which is about 3 hours uphill and 2 down. Located around 900 meters above the Paro valley on a precarious almost vertical mountain cliff, Taktsang Goemba is truly a wonderful and spectacular sight in terms of location, setting and history. In the 8th Century this was one of the major sites where Guru Padmasambhava – the patron saint of Buddhism in Bhutan meditated with his consort Khandro Yeshey Tshogyal. It is believed that Guru flew on a female tigress in pursuit of a demon, which he subdued at the current site of the Monastery. It is one of the holiest site in the Buddhist arena and the most important cultural icon in Bhutan. While riding ponies are available (only till halfway) however we'd suggest you to hike and enjoy climbing up the mountain.
You can have your lunch, tea/snacks at the cafeteria midway and spend the whole day meditating in the caves or exploring the temple located higher up the mountain. Hike back in the evening.
Back at your hotel you can enjoy a relaxed massage with a professional and trained Spa therapist and a traditional Hot stone Bath supposed to be very curative with numerous healing and medicinal properties.
Enjoy your dinner by yourselves or with your tour guide and driver.
Overnight at your hotel in Paro.
Day 17: Paro International Airport
After breakfast drive for about 30 minutes to the Paro International Airport. Your guide and driver will bid you farewell and we hope you had a pleasant holiday in Bhutan.