Mt. Jumolhari and Combo Trek

Combination of 4 popular Treks in Bhutan
Jumolhari Combo Trek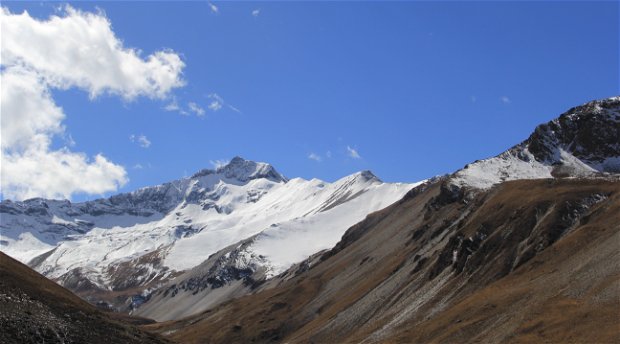 If you are disheartened or heard of treks destroyed by the unplanned urbanization and exploited nature by the human activities and you want to avoid, we have explored and reroute the trekking trail through some of the untouched tranquil mother nature that Bhutan boast of. We have named as Mt. Jumolhari Combo Trek. It includes combination of four Popular Trek - Jumolhari, Laya Gasa, Druk Path and Naro Trek.
You will venture as high as 5,000 meters which will be one of the most scenic treks with entry from the beautiful Paro Valley, you will explore and experience almost everything that Bhutan can offer making your exit from Thimphu, the capital city of Bhutan.
The economic development in the country has caused unplanned urbanization, deforestation and over exploitation of nature. Most of the trek routes in Bhutan like elsewhere in the world has been affected by these effects of developments. To provide our guests with an off the beaten path experience, our company has come up with a unique product combining the four treks- Druk Path, Yaktsa , Jumolhari trek and the Naro trek- a combination which has remained relatively untraveled. The highlights of this tour will be the spectacular views of the Mount Jumolhari, Jichu Drake and the beautiful passes that will take you into the close up views of the peaks which are more than 7,000 meters above the sea level. The trek unlike the former routes will be through the beautiful, pristine environment far from human civilization.
The new trekking route will be an isolated experience and also an escapade into diversity as you will be exploring the different trek routes. You will be treated to some great alpine scenery with beautiful camp sites, the illusive blue poppy and many more.
Gallery
Itinerary
Day 1- Paro International Airport- your first glimpse of Bhutan
Arrive in Bhutan, Sight seeing in Paro

On arrival at the Paro International Airport you meet your tour guide and driver. Check into your hotel and after a brief rest, start your magical experience of Bhutan by first visiting the impressive Rinpung Dzong/Fortress of Heaped Jewels a fine example of the ostentatious Bhutanese art and architecture. The Dzong is located in the heart of the town and a few minute walk through Nyimazam, one of the few last remaining traditional cantilever bridges in Bhutan. Dzongs serve as both monastic institutions and district administrative offices.
Located above the Dzong is the National Museum that houses various antiques and artifacts of Bhutan and provides a glimpse into Bhutan's cultural and religious history.
Visit the 3 storied Dungtse Lhakhang/temple, built in the mid 1430's by Thangtong Gyalpo, an iron bridge builder, to subdue a demon and the temple is believed that it is firmly chained to the ground. The three floors of the temple represent hell, heaven and earth and house some of the finest murals in Bhutan.
Overnight at your hotel in Paro
Day 2- Taktsang Hike-Tiger's Nest
Acclimatization hike, Maximum Elevation reach 3150 m,

After a sumptuous breakfast, you will hike to Taktsang Monastery / Tiger's Nest which is about 3 hours uphill and 2 hours down. Riding ponies are also available if you think the hike is a bit daunting. Located around 900 meters above the Paro valley on a precarious almost vertical mountain cliff, Taktsang Monastery is truly a wonderful and spectacular sight in terms of its location, setting and history. In the 8th Century this was one of the major sites where Guru Padmasambhava – the patron saint of Buddhism in Bhutan meditated with his consort Khandro Yeshey Tshogyal. It is believed that Guru flew on a female tigress in pursuit of a demon which he subdued at the current site of the Monastery. It is one of the holiest site in the Buddhist arena and the most important cultural icon in Bhutan.
You can have your lunch, tea/snacks at the cafeteria midway.
Before you drive back to your hotel visit the Kyichu Lhakhang/temple, one of the oldest temples built in the 7th Century by the Tibetan King Songsten Gyembo.
In the evening, enjoy a hot stone bath in a wooden tub which is supposed to be very curative with numerous medicinal and healing properties and has been the practice since the ancient times in Bhutan.
Overnight at your hotel in Paro
Day 3 - Paro- Chubitsa- Namchakha
Walking duration - 5-6 hours, Maximum Elevation reach - 4000 m, Camp Site at Namchakha

Your will drive from your hotel to Drugyal Dzong, the Fortress of the Victorious which will take around 20 minutes. From Drugyal Dzong, you will drive for about an hour to Chubitsa, where you will start your trek. The drive will be through the farm road which ends with the Stupa/chorten of Lam Drukpa kuenley, the divine mad man. With the views of beautiful mountains, you will be trekking for about 5- 6 hours to your campsite, Namchakha, a beautiful plain amidst the Himalayan Mountains at an altitude of more than 4,000 meters. Your trek starts from the Yaktsa trek trail.
Day 4 -Namchakha- Thangbu
Walking Distance - 5 -6 hours, Maximum Elevation reach - 4000 m
On your second day, you will be walking for 5- 6 hours via Tsenden La. Your will be descending for about 30 minutes from Tsenden La Pass. You will have a glimpse of the Jichu Drakey and Jumolhari both believed to be the abode of Goddess Jumo and Jowo. Your campsite will be at Thangbu which is around 4,000 meters. You will be walking through the pristine environment through the beautiful pine trees. Overnight at your campsite.
Day 5 - Thangbu- Yaktsa
Walking Duration - 4 hours, Maximum Elevation reach - 3,800 m
Day 6 - Yaktsa- Jangothang
Walking Duration 6 - 7 hours, Maximum elevation reach - 4080 m

On your fourth day, you will be walking for 6-7 hours to the Jumolhari Base Camp called Jangothang which is at an altitude of 4,080 meters. Before you reach your base camp, you will climb uphill for about 4 hours to Bongtey La Pass. Another 3 hours hike and the twin lakes will be there to greet you with its majestic view. You are now on the trail of Jomolhari Trek.
Day 7 - Halt at Jangothang – rest and acclimatize
Day Excursion of Mountain lakes and fresh water falls

Today you will stay at Jangothang campsite and engage yourself in various activities. Jangothang is a perfect environment for your acclimatization. There are plenty of possibilities for day hikes with great views of lakes and snow capped mountains such as Jomolhari and Jichu Drake. Jichu Drake is also one of those unclimbed mountains. There are good chances to spot some blue sheep on the upper slopes of the valley. Trek up to Tosoh or hike around the area. There are good short hiking trails in three directions. Jumolhari and its subsidiary mountain chains lie directly west, Jichu Drake to the north and a number of unclimbed peaks to the east. Nearby there are trout filled lakes. You may also walk towards the glaciers of Jhomolhari or visit and experience a high altitude village life nearby. Don't sweat it too much as you prepare yourself for a tough climb the next day.
Day 8 - Jangothang- Lingzhi
Walking Duration - 7 hours, Highest Elevation reach - 4890 m, Camp Site 3,880 m

On this day your camp altitude will be at 3,880 meters. This will be one of the longest days of the trek. You will ascend for about 30 minutes and then a gradual climb to the Nyela Pass, the Sleepy pass which is around 4,890 m. If you are lucky, you will see Breaded Vultures and Himalayan Griffon as well as the blue sheep. It will be a gradual descent to the camp where you will pass by some yak herders' tents which is made from the yak wool. As you come down into the Lingzhi valley, the wonderful view of the Lingzhi Dzong, the most remote fortress in Bhutan will receive you with its grandeur on clear days.  Your campsite will be below the Dzong.
Day 9 - Lingzhi- Dhingtso
Walking Duration 6-7 hours, Highest Elevation reach - 4820m

Today you will trek for about 6-7 hours. There will be a gradual climb for about 4 hours before you reach Yalela Pass, which is about 4,820 meters.  The serene surroundings along with the majestic Jomolhari, Jichu Drake, Gancheta (The Great Tiger Mountain) and Tsherimgang will be your view for the day. All the mountains are above 7,000 meters. Your campsite after a descending for an hour will be near the magnificent lake called the Dingtso. It is around 4,000 meters above the sea level.
Day 10 - Dhingtso- Waleythang
Walking Duration 5-6 hours, Maximum elevation reach - 4,100m

You will be greeted by the serene lake in the morning with its beauty and magnificence. You will walk for about 5-6 hours, where another trek called Naro starts.  You will enjoy the majestic view of the surrounding mountains. The descent will be steady and not too steep through gentle slopes where blue sheep graze.  Your campsite is at Waleythang which is about 4,100 meters.
Day 11 - Waleythang- Tegithang
Walking Duration - 6-7 hours, Maximum Elevation reach - 4,700m

Today for your three hour steady climb, you will be following an old yak herder's trail to reach Ledila Pass which is 4,700 m. You will then follow the shoreline of the beautiful lake Yumtsho till you reach your campsite at Tegithang. Today's view will also be the spectacular Himalayan Mountains. You will be walking for about 6-7 hours until you reach Tegithang.
Day 12 - Tegithang- Rangthabja
Walking Duration - 7 hours, Highest Elevation reach will be updated but not above 4700m
Day 13 - Rangthabja- Labana
Walking Duration 5-6 hours, Maximum elevation reach - 4,380m

On the tenth day, a steady climb leads to Yusa La Pass which is around 4,380 meters. You will then descend down the rocky terrain and climb again to a lake called Dung Tsho and Dung Tsho La Pass which is 4,300 meters. You will now join the Druk Path Trek route. It was the traditional route between Thimphu, the capital and Paro. Your camp will be at Labana which is at 4,200 m.
Day 14 - Labana – Phajoding – Thimphu
Walking Duration 4-5 hours, Descend to Thimphu the capital city of Bhutan

On your last day, a beautiful sunrise will greet you. You will walk from Labana, for about 3 hours to Phajoding. You can explore the Phojoding Monastery from where you will be able to view the spectacular Thimphu city below. Your walk will be at a leisurely pace since you will be descending through the serene pine trees for about 3 hours through the forested area of mostly blue pine.
You will then reach Motithang, upper Thimphu. Your driver and vehicle will be waiting for you. Enroute to your hotel you can visit the Takin Preserve, the weird national animal of Bhutan with head of a goat and body of a cow.
Check into your hotel and rest for a while.
In the evening, visit the Tashichho Dzong/Fortress of the Glorious Religion and office of the Golden throne of the Dragon King of Bhutan.
Check into your hotel in Thimphu
Day 15 - Thimphu valley excursion
Sight Seeing in Thimphu - the Capital of Bhutan

After a leisurely breakfast, you will explore the capital city of Bhutan. Thimphu is the only city in the world that does not have traffic lights and the traffic is still manned by traffic policemen.
Thimphu is the most populated city with about 100,000 people and truly a combination of the ancient and modern. While strictly maintaining the traditional style of architecture in modern building, there are also very old temples and numerous monasteries in and around the city, and few discotheques and Karaoke.
Soak yourself in the panoramic view of the Thimphu valley from the site of the gigantic Lord Buddha, a 51.5 meter bronze Shakyamuni Buddha statue gilded in gold which looks like a sentry guarding the Thimphu Valley.
You will be visiting the Memorial Chorten/Stupa which is another favorite with the tourists and a regular site for congregation of devout Buddhists circumambulating the Chorten from dawn till dusk.
If you want to mingle with the Bhutanese people and jostle with local farmers amongst the aroma of organic fruits and vegetables, the Centenary Farmers Market is the place to be. Smiling tourists watch in awe as locals bargain with the vendors and you could even stock up on your organic fruits for the coming days.
You will also be visiting the Simply Bhutan Museum which is a living studio showcasing the age old culture and traditional heritage of Bhutan.
Stroll through the market place and the craft bazaar. 
Overnight at your hotel in Thimphu.
Day 16: Departure
After breakfast drive to Paro International Airport where your guide and driver will bid you farewell and hope you had a pleasant holiday and hope to see you in Bhutan again.