Meditate, Contemplate and Relax

Slow Living, Healthy Eating, Sound Sleeping, Nurturing Nature and Creating Connections
Mindfulness Journey to Bhutan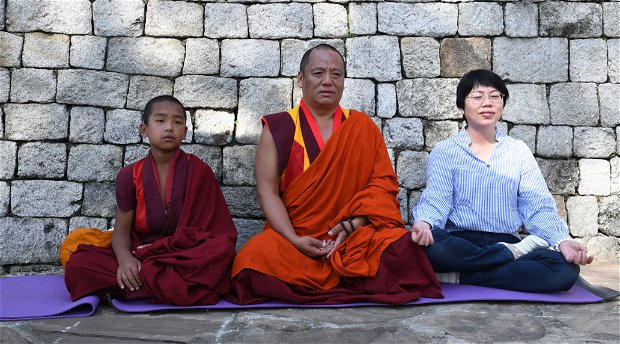 Get away from fast moving hustle and bustle city life, travel to Bhutan and take refuge in the Himalayan Kingdom of Bhutan, breath in fresh air, get calm, go slow, be present and tap into the healing power of nature that Bhutan has to offer. Experience a range of Bhutan's luxury hospitality with range of Buddhist Meditation and Yoga classes and Bhutanese Traditional healing Ayurveda and herbal medicines.
We begin our journey at Bhutan Spirit Sanctuary in Paro the Bhutan's first well being inclusive high-end sanctuary for body, mind and spirit. Yoga and meditation will continue in a silent and peaceful mountaintop of Bumdra (4100 m (13450 feet) high– the cliff above Tiger's Nest monastery where 1000 angles were believed to have flown from the rocky cliff and blessed by Guru Rimpoche.
Discover your spiritual awakening as you meditate in the Tiger's Nest Monastery – the most spiritual sight in Bhutan.
Other Highlights
Welcoming Dinner by the founders of Bhutan Swallowtail Tours and Travels,
Throughout your holiday to Bhutan, escorted by one of the Bhutan Swallowtail's expert tour guide- your 'travelling concierge', expert guide, in addition to Mediation and Yoga Teachers
Baggage handling everywhere on your tour.
Free Wi-Fi and Internet in most of the hotel rooms and lobbies.
Enjoy the unique comfort of Bhutan Swallowtail's Luxury air conditioned SUV and coach with extended leg room.
Airport Transfers as per the scheduled flights.
Package Inclusion:
Airport Transfers
All cost pertaining to Mediation, Yoga classes, fees and charges
Stay in hotels as indicated in the itinerary
All three meals, tea and coffee
Dedicated SUV vehicle with a driver and
English Speaking Guide throughout the Trip
Short hikes, Packed lunches and snacks wherever required
Monumental Fees
Bhutan Tourism Development Fee
VISA processing Fee
Package Does Not Include:
International Air fare
Refreshments and bottled drinks and alcohol
Tips/gratuities
Cost arising out of Flight Cancellation/road blockades/ landslides and events beyond our control
Expenses of personal nature and any other expenses not mentioned in the above cost
Transport
The vehicles of Bhutan Swallowtail are all luxurious and air conditioned catering to the comforts of our guests as well as ensuring a smooth ride over the mountainous and winding roads of Bhutan. With high ride quality and extended legroom you can enjoy the beautiful landscape from the inside of our cars. We have Toyota SUVs, Hi Ace buses and coaster buses with carrying capacity of up to 30 people in one bus. Driven by experienced and licensed drivers we will make sure you enjoy your holiday to Bhutan and the comforts of our luxurious fleet of cars. 
VISA to Bhutan
All tourists must obtain a visa clearance prior to travel to Bhutan. Visas are processed through an online system by your licensed Bhutanese tour operator, directly or through a foreign travel agent.
You are required to send the photo-page of your passport to your tour operator who will then apply for your visa. The visa will be processed by the Tourism Council of Bhutan (TCB) once the full payment of your holiday (including a USD $40 visa fee) has been wire transferred and received in the TCB bank account. Once received the visa clearance will be processed within 72 working hours.
At your point of entry you will be required to show your visa clearance letter, the visa will then be stamped into your passport.
Terms and Conditions:
Tour prices and dates are correct at the time of the website going live, however are subject to confirmation at the time of booking. All tour information is correct at time of tours going live, however is subject to change, please confirm all details at time of booking. For full terms and conditions, please refer to our Booking Conditions page.
Gallery
Itinerary
Day 1 - PARO INTERNATIONAL AIRPORT – Your first glimpse of Bhutan
Check in, Complimentary Treatment, Paro Rinpung Dzong
On arrival at the Paro International Airport your tour guide and driver will welcome you.
Depending on your energy and time, you will visit the impressive Rinpung Dzong/Fortress of Heaped Jewels, a fine example of the ostentatious Bhutanese art and architecture.  The Dzong is located in the heart of the town and a few minutes walk through Nyimazam, one of the few last remaining traditional cantilever bridges in Bhutan. Dzongs serve as a monastic institution and as district administrative office.
Located above the Dzong is the National Museum that houses various antiques and artifacts of Bhutan and provides a glimpse into Bhutan's rich cultural and religious history.
Or, check in your hotel at Bhutan Spirit Sanctuary
Day 2 – The day at Bhutan Spirit Sanctuary
Wellness Treatment, Meditation and Yoga, Swim or Gym
On your first day at the Sanctuary you will receive a consult with our trained traditional medicine doctors, your designated Well-Being Guides. Aligned with your personal goals, they will create a customized well-being program for the duration of your stay, including a selection of wellness treatments, activities, and a dietary advice, which our Chefs will make sure to follow in preparation of your meals.
Today afternoon we combine some nature with culture by taking you on a short hike to the Eutok goenpa, the monastic school across the valley from the Sanctuary.
As per your personalized well-being program you will also do one or more of the following:
Wellness treatment
Meditation or yoga (either guided or on your own)
Swim, gym or take a stroll
Special activity such as cooking or pottery class, archery or khuru (Bhutanese darts)
Tip: Start reading your complimentary copy of The Restful Mind, which is placed in your room.
Day 3: Hike and heal, your second day at Bhutan Spirit Sanctuary
Yoga, Mediation, Hike with Nature and Meditation
To start off the day in the best possible manner, you will either do some yoga, meditation, swim, gym or a short walk.
Now you have adjusted somewhat to your new home we can really start your (re-) connecting to yourself. Nature is one of the best possible healers, so we will take a long hike through our beautiful valley and halfway stop for a short meditation and a picnic.
After your return to the Sanctuary you will first receive a relaxing and healing traditional medicine treatment in our wellness area, and if needed meet again with one of our Well-Being Guides to check your condition.
The rest of the afternoon and evening are your own, and you can make further use of any of our wellness facilities and services, continue reading The Restful Mind or take part in one of our special activities. In the evening during dinner we will have a mystery guest who will share their inspirational story of a transformational journey.
Since tomorrow you have to wake up early for your hike to Bumdra, we recommend you get a good night's rest.
Day 4 – Bumdra Trek, first overnight camp
Distance: 20 minutes' drive; 7 Kms hike, Duration: 3 – 4 hours, Camp Altitude: 3,500 meters
The Bum Dra trek is one of the most beautiful short duration treks in Bhutan with only one night camping in the wild. But the scenery and landscape may well be worth compared to all of the other treks and also in terms of the adventure and the experience that goes along as you hike up. Also called the 'The Trek of the Thousand Dakinis' (celestial female beings) you can even explore the numerous sacred and holy caves where the angels had convened. You can also get a spectacular view of the Taktsang Monastery from the top, which you will not see from the usual tourist route.
From your hotel, drive for about 20 minutes till you reach the road end at Sangchhoekor Buddhist College perched on a hill top at 2,800 meters. It is a beautiful hike with sweeping views of the Paro valley, the Himalayan ranges and meadows adorned with prayer flags till you reach the campsite just below the BumDrak Monastery.
Stretch your body. Hot tea, porridge and soup of your likings will wait for you at the dinning tents with chair and table with basic heating system. You can rest and relax at your campsite or hike a little uphill, on a rocky cliff with a Ariel view of Tiger's Nest Monastery and Paro Valley, amid the floating clouds, you can chose to meditate.
Day 5 – Mediation amid the floating clouds
Morning Hike, Meditation and Yoga on the mountain Top, Visit Sky Burial
In the morning, hike 2 hours up hill gaining 210 m covering almost 2.36 Km till you reach 2 of the 3 sky burial. At the top, over looking the Paro Valley and the mountain top carpeted with blue, yellow and purple shrub Rhododendron flowers, cool fresh air and the clouds floating beneath, on a flat area atop, you will either undergo guided mediation with your mediation teacher or meditate on your own. Then followed by Yoga for those interested while others just enjoy the scenic beauty of Himalayan Mountains. Hot tea with some snacks will be served on the mountaintop.
Lunch, Dinner and night at the campsite.
Day 6 – Bumdra – Tiger's Nest Monastery – Bhutan Spirit Sanctuary.
Distance: 15 Kms, Duration: 5 – 6 hours, Visit to Tiger's Nest Monastery and Meditation
Enjoy the beautiful sunrise from your campsite and after a hearty breakfast start your hike towards the sacred Tiger's Nest Monastery. The trail is through forests of rhododendron and pine trees and is a moderately leisurely hike. Most of the tourists only visit the main temples at the Tiger's Nest, however you are a lucky few to be able to visit the temples on the top particularly the Zangdopelri temple. Zangdopelri means or is the mystical Glorious Copper Colored Mountain of Guru Rinpoche and you can enjoy a bird's eye view of the other temples far below.
Short mediation at the main temple, Tiger's Nest Monastery.
After visiting the temples on the top, hike further down to visit the main temples and gradually climb down till you reach the base where your vehicle and driver waits to take you to your hotel. 
After returning to the Sanctuary we recommend you to take a hot stone (herbal) bath with a full body kunye massage to really relax your weary limbs and revive yourself for this evening's event.
Tonight the Chefs at the hotel will prepare you a special healthy Bhutanese family style dinner and the Sanctuary team will give you a short traditional dance performance.
Day 7 – Connect, Contemplate, Relax and be Present
Relax and Contemplate
Today is all about connecting to your inner-self and quiet contemplation.
You can either decide to spend some time outside of the Sanctuary, in our valley, by going on one of the many available hikes, or to just stay in and find some peace in one of the many quiet and scenic spots of the Sanctuary, where you can meditate, do yoga, swim, gym, or read a book. Of course, our wellness facilities and our Well-Being Guides will be at your full disposal as always.
Day 8 – Departure and a new beginning
Depart
Most of the flights from Bhutan leave in the morning, so we recommend you to make the most of your remaining time at the Sanctuary by doing one more yoga or meditation session, and have a healthy leisurely breakfast. Although the time in Bhutan has come to an end, it signifies one of new beginnings in your own personal journey.