Traditional Jumolhari Trek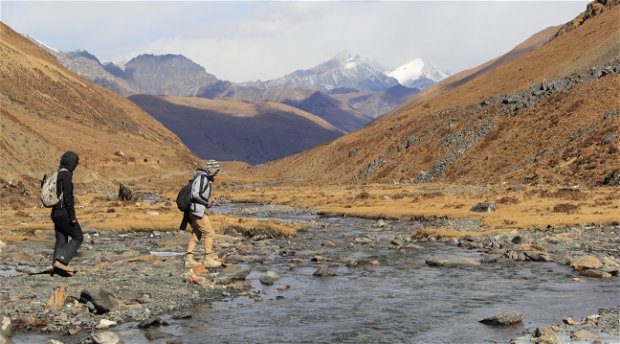 Jomolhari means "Mountain of the Goddess Jomo" and brace yourself to experience Bhutan in its truly wild beauty with close up views of the Snow Capped Mountains. With altitude differences of 2,500 m and nearly 5,000 m (lowest and highest point of the route), it offers a wide range of landscape, fauna and flora. The highlight of this trek is the spectacular view of Mount Jomolhari from Jomolhari Basecamp, and sightings of the Blue Sheep, Tibetan snowcocks, Marmots, Himalayan griffons amongst others and visiting the highlanders' semi-permanent shelter houses. One should be physically fit to enjoy the majestic mountain views, endure thin air, serenity & the wilderness of the landscape while on the trek. The trek starts from Paro and passes through scattered hamlets, high alpine pasturelands, yak herders' camps and stunning landscapes and sunrises and comes out from north of Thimphu valley.
Pre-Departure Checklist
Camping in extreme weather such as cold temperatures and snowy conditions can be expected and extremely enjoyable; Camping on the snow can be peaceful, picturesque and an out door adventure.
All the accommodation while on Trek is twin sharing, double occupancy. Single occupancy in tents can be arranged on demand at an additional charge. All tents are Cold Weather Tents and designed for harsh weather and snowy conditions. Separate tents will be pitched for dinning, kitchen and rest room.
On demand, a luxury camping facilities will be provided like bed and mattresses, warm shower tents, rest room with proper toilet pots, fishing equipment etc.
Check for the following Essential Trekking Gears:
Trekking Boots (broken in)
Waterproof 3/4 season jacket and trousers
Camp Footwear (light shoes/sandles/trainers)
Several pairs of good quality socks
T-Shirts - Highly recommended are synthetic T shirt styles that wick away moisture
Thermal Underwear / layers
Down jackets
Warm mid layers (fleece/micro fibre)
Trousers - Lightweight, loose fitting, trekking trousers, pants with zip-off bottoms
Shorts
Gaiters
Tracksuit or fleece pants for evenings
Sleeveless fleece and extra layers for winter departures
Warm Hat and sun Hat
Scarf/neck warmer
Gloves and Mitts - waterproof and warm
Sunglasses with UV protection
Head Torch (spare batteries)
Sunscreen and Lip Balm
Light weight towel
Hand sanitizer gel
Trail mix / nuts/ muesli bars
Whistle
Daypack - The daypack you select must have the capacity for the items you may be carrying on a day's walk: rain jacket, trousers, warm clothing, water bottle, camera equipment, washing items and other personal effects. A hip/waist strap provides additional comfort. You should consider daypacks of at least a 30 to 40-litre capacity. Horses will be carrying the rest of your luggage.
Gallery
Itinerary
Day 1: Sharna Zampa – Soe Thangthangkha
Distance: 22 Kms, Duration: 7 - 8 hours, Camp Altitude: 3,610 meters
After an early breakfast from your hotel in Paro, drive for about 1 hour till you reach the road-end at Sharna Zampa bridge. Today is a relatively moderate but long trek with slight undulation of the trails through beautiful forests of rhododendron, oak, bamboo and ferns. You will be walking through the Jigme Dorji Wangchuck National Park till you reach a meadow. Your campsite will be at the meadow and on a clear day you can see the Mt Jomolhari in the distance.
Day 2: Soe Thangthangkha – Jangothang (Jomolhari Basecamp)
Distance: 19 Kms, Duration: 5 – 6 hours, Camp Altitude: 4,080 meters
You resume the trek early in the morning. The trail continues uphill across alpine meadow and stunted vegetation. Along the trail, you will be able to view Mount Jomolhari. You will come across an army outpost on the way, yak herders homes, and will enjoy the view of beautiful snow clad mountain peaks and ridges. The trail passes through the highland villages of Soe, Takethang and Dangochang. Here you will be able to experience the typical lifestyle and culture of highlanders. You will continue till Jangothang, the campsite at the base of the majestic Mount Jomolhari, the abode of the protective deity Jomo.
Day 3: Excursion of Jangothang Base Camp
Today you will spend the day at Jangothang acclimatizing and exploring the nearby Jomolhari Base, Tshophu twin lakes and visiting the highland communities and interacting with the Highlanders.
Day 4: Jangothang – Lingshi
Distance: 18 kms, Duration: 6 – 7 hours, Camp Altitude: 4,010 meters
After the good day's rest you will continue the trek. The trail follows a stream for half an hour and crosses the bridge to the right bank. Enjoy breathtaking views of Jomolhari, Jichu Drake and Tserimgang. The trail then goes through a fairly level valley floor until the climb up to Nyele-la pass (4,700m). Descend gradually from the pass to your campsite at Lingshi (4,000m), with panoramic close up view of the mountain peaks and Lingshi Dzong during the hike.
Day 5: Lingshi – Shodu
Distance: 22 Kms, Duration: 8 – 9 hours, Camp Altitude: 4,080 meters
Trek through Yeli-la Pass at 4,820 meters. Again you can sight the mountains and Himalayan Ranges. Descend alongside a stream to a rock shelter on a cliff face and continue downstream till you reach your campsite near a chorten (Stupa) at Shodu.
Day 6: Shodu – Barshong
Distance: 16 Kms, Duration: 6 – 7 hours, Camp Altitude: 3,710 meters
Today you will follow the course of the Thimphu Chhu (River), descending through rhododendron, juniper and mixed alpine forests. Enjoy stunning views of rocky cliffs and waterfalls on the trail. The trail takes you gradually upwards to the ruins of Barshong Dzong (at 3600 m) and camp near the Dzong.
Day 7: Barshong – Dolam Kencho – Dodena – Thimphu
Distance: 15 Kms, Duration: 5 – 6 hours, 1.5 hours drive
Hike through dense forests of rhododendron, birch and conifer forests till you meet the Thimphu Chhu again. The final climb is through a cliff high above the Thimphu Chhu, into a pastureland through forests of conifers and broadleaved vegetation till you meet your vehicle and driver at Dolam Kencho. Drive on for about 1.5 hours till you reach your hotel in Thimphu.