Honeymoon & Bhutan Cultural Tour Package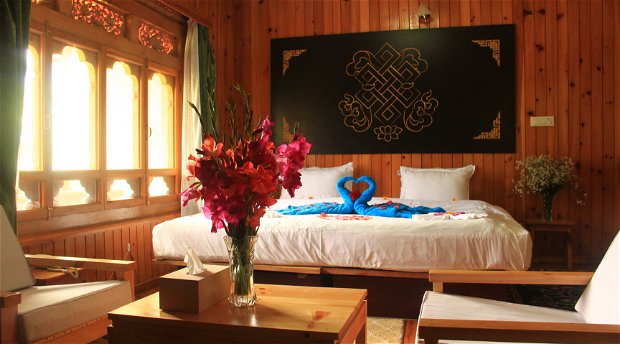 Bhutan is a Shangri-La of romantic escapades for couples both old and young and a perfect place to visit for a blissful honeymoon or exchange your vows. You will experience Romantic Cultural Honeymoon Extravaganza with Bhutan Cultural Tour Package Across Breathtaking Scenery, Snow Capped Himalayan Mountains, Beautiful valleys, Luxurious Accommodations and Wedding in Local Bhutanese Way, Spiritual as well as in Style.
What to expect: Honeymoon Tour Package
Bhutan is a Shangri-La of romantic escapades for couples both old and young and a perfect place to visit for a blissful honeymoon or exchange your vows. For a memorable honeymoon in the Himalayas we have a whole list of things to do and places to visit for the newlyweds.  Starting off with a special prayer in one of the sacred temples for a long-lasting happy marriage, to cultural sight-seeing, wearing the beautiful Bhutanese dress for photo-shoots at awesome locations, short hikes, romantic picnics by the riverside or mountain tops and a whole list of activities as you enjoy your first and most important initial beginning. We can also arrange for a lavish or simple wedding ceremony where you can also experience marriage the traditional Bhutanese way. 
Special Attentions:
Romantic dinners and picnic lunches
Though your guide and driver will be with you throughout the tour, however they will give you ample space and time for you two to be together
Special rooms for the couple
Other Highlights
Included quality wining and dining: a welcome reception with drinks at every hotels of your stay,
Welcoming Dinner by the founders of Bhutan Swallowtail Tours and Travels,
Throughout your holiday to Bhutan, escorted by one of the Bhutan Swallowtail's expert tour guide- your 'travelling concierge', expert guide, consummate facilitator and friend in a foreign land who ensures your journey is as enjoyable as possible.
Baggage handling everywhere on your tour.
Free Wi-fi and Internet in most of the hotel rooms and lobbies.
Enjoy the unique comfort of Bhutan Swallowtail's Luxury air conditioned SUV and coach with extended leg room.
Airport Transfers as per the scheduled flights.
Package Inclusion:
Airport Transfers
Stay in hotels/Farm-stays as indicated in the itinerary
All three meals, tea and coffee
Dedicated SUV vehicle with a driver
English Speaking Guide throughout the Trip
Short hikes, Packed lunches and snacks wherever required
Monumental Fees
Bhutan Tourism Development Fee
Government Royalty of USD 65 per person per night – your personal contribution to the health, education and all developmental works in Bhutan
VISA processing Fee
Package Does Not Include:
International/Domestic Air fare
Refreshments and bottled drinks and alcohol
Tips/gratuities
Cost arising out of Flight Cancellation/road blockades/ landslides and events beyond our control
Expenses of personal nature and any other expenses not mentioned in the above cost
Transport
The vehicles of Bhutan Swallowtail are all luxurious and air conditioned, catering to the comforts of our guests as well as ensuring a smooth ride over the mountainous and winding roads of Bhutan. With high ride quality and extended legroom you can enjoy the beautiful landscape from the inside of our cars. We have Toyota SUVs, Hi Ace buses and coaster buses with carrying capacity of up to 30 people in one bus. Driven by experienced and licensed drivers we will make sure you enjoy your holiday to Bhutan and the comforts of our luxurious fleet of cars.
VISA to Bhutan
All tourists must obtain a visa clearance prior to travel to Bhutan. Visas are processed through an online system by us as your licensed Bhutanese tour operator.
You are required to send the photo-page of your passport and the your visa will be processed by the Tourism Council of Bhutan (TCB) once the full payment of your holiday (including a USD $40 visa fee) has been wire transferred and received in the TCB bank account. Once received the visa clearance will be processed within 72 working hours.
At your point of entry you will be required to show your visa clearance letter, the visa will then be stamped into your passport.
Terms and Conditions:
Tour prices and dates are correct at the time of the website going live, however are subject to confirmation at the time of booking. All tour information is correct at time of tours going live, however is subject to change, please confirm all details at time of booking. For full terms and conditions, please refer to our Booking Conditions page.
Honeymoon in Bhutan - Detailed Itinerary
Day 1 – Welcome to Bhutan - the land of Thunder Dragon
On arrival at the Paro International Airport your tour guide and driver will warmly welcome you. Depending on the time of the day you can have your lunch or tea/coffee/snacks in Paro town and then start your magical experience of Bhutan by first visiting the impressive Rinpung Dzong/Fortress of Heaped Jewels which is a fine example of the ostentatious Bhutanese art and architecture.  The Dzong is located in the heart of the town and a few minutes walk through Nyimazam, one of the few last remaining traditional cantilever bridges in Bhutan. Dzongs serve as both monastic institutions and district administrative offices.
Located above the Dzong is the National Museum that houses various antiques and artifacts of Bhutan and provides a deep insight into Bhutan's cultural and religious history.
Drive for an hour to Thimphu the capital of Bhutan. En route, you will have a glimpse of the 15th Century Tachogang Lhakhang/Temple built by the great master architect, iron bridge builder and Yogi Thangthong Gyalpo. He had built many iron bridges all over Bhutan including the one leading upto this temple.
You will be driving south along the Paro River to the confluence at Chuzom where it meets the Thimphu River. From then on the drive is along scattered settlements along the highway, paddy fields and fresh fruit stalls. Do not hesitate to stop and buy some local fresh organic fruits.
Check into your hotel, rest and relax or stroll through the town and market places. Overnight at your hotel in Thimphu.
Day 2: Excursion of Thimphu Valley – Combination of the Ancient and Modern
Thimphu with a population of about 130,000 people is one of the last few capital cities without traffic lights and the traffic still managed by traffic policemen. While strictly maintaining the aesthetic beauty and traditional style of architecture in the modern buildings, there are also very old temples and numerous monasteries in and around the city, and a few discotheques, Karaoke joints and pubs which you can visit in the evening.
Soak in the panoramic view of the Thimphu valley from the site of the gigantic Lord Buddha, a 51-meter bronze Shakyamuni Buddha statue gilded in gold. You can also hike for an hour around the Buddha with views of the Thimphu valley from various points.
The beautiful Memorial Chorten/stupa in town is another favorite with the tourists and a regular sight for congregation of devout Buddhists circumambulating the Chorten from dawn till dusk. The main statue of the Buddha inside the Chorten is said to grant wishes for the earnest and honest hearted!
If you want to mingle with the Bhutanese people and jostle with local farmers amongst the aroma of organic fruits and vegetables, the Centenary Farmers Market is the place to be. Smiling tourists watch in awe as locals bargain with the vendors and you could even stock up on your organic fruits for the coming days.
Visit the Simply Bhutan Museum which is a living studio showcasing the age-old culture and traditional heritage of Bhutan. Walk for a few minutes from the Museum to Changangkha Lhakhang the oldest temple in Thimphu.
In the evening visit the Tashichho Dzong/Fortress of the Auspicious Religion and office of the Golden throne of the Dragon King of Bhutan. After, stroll through the market places and the craft bazaar. Overnight at your hotel in Thimphu.
Day 3: Thimphu – Punakha – Wangdue – Gangtey & Phobjika Valleys
After breakfast check out of your hotel and drive for about three hours to Wangdue and Punakha valleys and another 2 hours to reach Gangtey and Phobjika valleys.
Enroute stop over at the Dochulaa Pass (3150 meters) and on a clear day enjoy the spectacular views of the snow-capped Himalayan Mountains. The 108 small stupas built over a small hill is also a beautiful sight. The road from the Pass winds down to the warm and fertile valleys of Punakha and Wangdue.
A visit to the Fertility Temple / Chime Lhakhang is a must for newly weds to receive blessings from the Divine Madman. It is a pleasant 30 minutes walk through mustard and paddy fields. Standing on a picturesque hilltop the Lhakhang is famous for its fertility wish grants to couples. Inside the walls of the Lhakhang are beautiful frescoes depicting the colorful life of Lama Drukpa Kuenley, the Divine Madman regarded for his crazy methods of teaching that included blessing women in the form of copulation!
After lunch, continue drive for 2 hours till you reach the beautiful glacial valleys of Gangtey and Phobjika. Located at an altitude above 3,000 meters these valleys are the winter roosting grounds for the sacred and endangered Black Necked Cranes. The Black Necked Cranes mate for life and are exemplary examples of loyalty and fidelity. The Cranes live in these valleys from November till March and fly to Tibet for the summer.
Check into your hotel, rest and relax. In the evening walk around the village and enjoy your dinner with a local family at a homestay. Overnight at your hotel in Gangtey.
Day 4: Excursion of Gangtey, Phobjika and neighboring villages
Start your day by first visiting the Gangtey Goemba / Monastery overlooking the valleys and visit the temples inside. From the Goemba you can enjoy a leisurely 2-hour hike downhill and watch the Cranes as they play around or if you are lucky even watch a dance. At the annual Black Necked Crane Festival (11th November) and during the Gangtey Tshechu/Festival (23-24 September 2018) the communities and children showcase the Cranes dance with choreographed moves and steps copied from the Cranes' dance.  
After lunch you can hike for a short while to Kewa Lhakhang/temple and interact with the young novice monks and watch them as they go about their daily life. You can even sit in with the monks during their evening prayers and rituals.
You can either have your dinner at the hotel or try out some other farmstay for dinner with a local family. Overnight at your hotel in Gangtey.
Day 5: Punakha Valley Excursion – The Old Capital of Bhutan
After breakfast drive back to Punakha for 2 hours and enjoy the warm balmy weather of Punakha and Wangdue. However you will be just driving through Wangdue and spending more time in Punakha valley.
You can first visit the impressive Punakha Dzong / Fortress of Great Bliss built in 1673 by Zhabdrung Ngawang Namgyel (the first spiritual & political leader of Bhutan) to commemorate the final victory against numerous Tibetan invasions. Located on a piece of land between two rivers Pho Chhu and Mo Chhu (literally meaning male and female rivers), the Dzong is massive, huge and magnificent in all its architectural grandeur. Although ravaged by flood, fire and earthquakes many times, the Dzong was always rebuilt with its original pattern and design. The first King of modern Bhutan was crowned in Punakha Dzong. Important religious ceremonies are still held in the Dzong. The Royal Wedding ceremony on 13th October 2011 of the Fifth King Jigme Khesar Namgyel Wangchuck to Jetsun Pema was conducted in Punakha Dzong.
From the Dzong enjoy a short walk through a beautiful pathway of giant flowering trees and flowers and on to the longest iron suspension bridge. You can then drive for a few minutes up north and hike for an hour to Khamsum Yulley Namgyel Chorten / Stupa. You will be walking through pine trees and paddy fields. From the Chorten you can enjoy sweeping views of the valley with paddy fields, scattered villages and the meandering Mo Chhu (Female river).
Drive back and overnight at your hotel in Punakha.
Day 6: Punakha - Thimphu – Paro
After breakfast visit the Sangchhen Dorji Lhuendrup Nunnery where you can interact with the nuns, most of them speak English, and watch them as they go about their daily life and routine. You can also enjoy the view of both Wangdue and Punakha valleys from here.
Then drive back to Paro which is about 3.5 hours with enroute stops at the Dochula Pass and if you are up for it you can visit the Semtokha Dzong / Fortress Atop a Demon on the outskirts of Thimphu valley. Semtokha Dzong was built in 1629 and is the first one to be built in Bhutan, and as the name suggest it was built on top of a demoness that was creating havoc to the people of Thimphu valley back then.
Back in Paro you can check into your hotel, rest for a bit and in the evening stroll through the small town and market areas. There are also few pubs, Karaoke joints and discotheques. Overnight at your hotel in Paro.
Day 7: Haa Valley Excursion
Drive on to Haa valley which is about 2 and half hours drive over the Chelela Pass at 3,988 meters (12,402 ft). From the top, the Pass also offers spectacular views of both Haa and Paro valley on both sides. Your guide will also point out majestic Himalayan Mountains of Bhutan seen from here. The national flower of Bhutan, the Blue Poppy and other exotic highland flowers and orchids grow in the wild and are a beautiful sight in spring.
If you want you can also visit the Kila Gomba Nunnery below the Pass located on a cliff side and consists of several small temples and retreat huts. The nuns here live in a self imposed isolation either in meditation or chanting and reading the holy scriptures.
From the pass drive on till you reach the picturesque and remote Haa valley. Excursion of Haa valley is truly an off the beaten path experience and has been only recently introduced into the coffers of tourism in Bhutan. Even though Haa is an exclusive destination, excursion of Haa still remains on the fringes of mainstream tourism and is not much visited by tourists. Stroll through the valley, visit the few shops and interact with the locals. To maintain the pristine environment and maintain their culture, the people of Haa valley specifically requested the Government to not allow any tourist hotels or big buildings to be built.
Visit the White and Black Temples and while there are no major attractions or touristy places, however the valley is very beautiful and peaceful and the drive around is enough to soak in the peace and tranquility that is Haa.
In the evening drive back to Paro via the Chelela Pass. Rest well for your hike to the Tiger's Nest the next day. Overnight at your hotel in Paro.
Day 8: Hike to the Tiger's Nest / Taktsang Goemba – The most important cultural icon in Bhutan
Have a sumptuous breakfast for your hike to Taktsang Monastery / Tiger's Nest which is about 3 hours uphill and 2 down. Located around 900 meters above the Paro valley on a precarious almost vertical mountain cliff, Taktsang Goemba is truly a wonderful and spectacular sight in terms of location, setting and history. In the 8th Century this was one of the major sites where Guru Padmasambhava – the patron saint of Buddhism in Bhutan meditated with his consort Khandro Yeshey Tshogyal. It is believed that Guru flew on a female tigress in pursuit of a demon which he subdued at the current site of the Monastery. It is one of the holiest site in the Buddhist arena and the most important cultural icon in Bhutan. While riding ponies are available (only till halfway) however we'd suggest you to hike and enjoy climbing up the mountain.
You can have your lunch, tea/snacks at the cafeteria midway.
Back at your hotel you can enjoy a relaxed massage with a professional and trained Spa therapist and a traditional Hot stone Bath supposed to be very curative with numerous healing and medicinal properties.
Enjoy a romantic dinner by yourselves or with your tour guide and driver. Overnight at your hotel in Paro.
Day 9: Departure
After breakfast drive for about 30 minutes to the Paro International Airport. Your guide and driver will bid you farewell and we hope you had a pleasant holiday in Bhutan.