Bhutan Travel Blog

Questions & Answers, Bhutan Travel Tips and Holiday Concerns & Updated by Travellers & Bhutan Swallowtail Team
Bhutan Cuisine, Food in Bhutan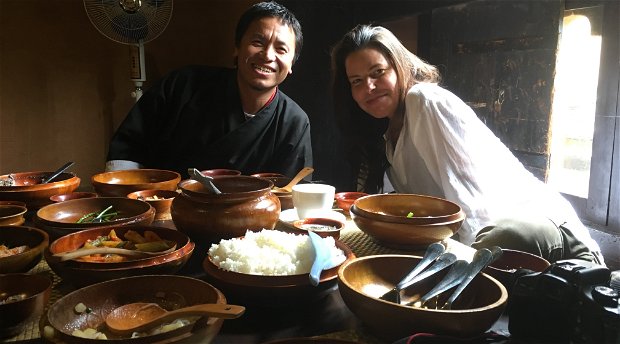 Bhutanese cuisine by far uniquely stands out from the world simply for its simplicity and taste. In comparison to traditional Bhutanese cuisine no other cuisine comes even close in its taste and experience. That is why for the visiting foreigner food in Bhutan is an adventure in itself.
The main course consists of only rice and vegetable or meat curry/stew. However, rice is not just the ordinary white rice, in fact it is red rice and as the name suggests is reddish in color, unpolished and with a nutty, earthy flavor which is high in fiber, and of course grown only in the highlands of Bhutan and in few places around the world. The curry or stew consists of vegetables cooked with cottage cheese (slightly rotten!) and other usual garnishing like salt, oil, onion and tomatoes. However, it is the cheese (churned from cow's milk) which brings out the real taste in the curry.
Called 'ema datse', hot and spicy chili cooked in cheese is considered as the national dish and has become quite popular around the world. Except for the Bhutanese, other people prefer to replace the chili with other fresh vegetables as the original ema datse is absolutely hot and extremely spicy. Mushroom, potato, aubergine, cabbage, wild ferns, asparagus, orchids and many other fresh vegetables  cooked in cheese with only a wee bit of chili is an absolute delight and popular with the visiting tourists and many a tourist take back recipes written down by a Bhutanese friend or an acquaintance.
Not only are fresh vegetables and meats consumed, but they are also dried (either smoked or sun dried) and preserved for the lean season. Dried beef and pork are considered special and normally eaten during festivals and celebrations.
Apart from this hot dish which is common all over the country, there are many other exotic dishes unique to a region or a particular village. Bumthang is popular for buck wheat noodles and flat breads, the eastern districts of the country take the privilege of growing the finest and best green chilies, and the western districts for their different varieties of red rice. Vegetables are seasonal, organic and grown all over the country.
The staple food is rice and huge serving of rice with curry is eaten in all the three meals. Salted butter tea, another exotic Bhutanese drink is served with meals and has a rich buttery taste.
However, the good news is that traditional Bhutanese food is not limited to the Bhutanese kitchen or household only, and almost all hotels and restaurants serve all varieties depending upon your taste buds for spiciness and choice of vegetables. As much as you will enjoy the landscape, culture and tradition of the country, you will also enjoy the food served in Bhutan with a lot of love and happiness. 
blog comments powered by

Disqus